| | |
| --- | --- |
| hibis, the reality, nothing else. | hibis Curiosity. |
this page:People and trade 1,

&nbspposters, placards, signs, inscriptions


bottom


French
Provençal. A very special choice for an aperitif, said oursinade, that is to say with some urchins.



According to your preferences, choice is ;
6 urchins and 1 glass of wine or, 1 urchin and 6 glass of wine. hibis

Mutual assistance for disaster-stricken activities ? this inscription reads : 1 main dish + 1 dessert + 1 one cinema seating.
Of course, the cinema is not far from the restaurant, in this small "seaside fishing port", nearby south Brittany. hibis

Carola flowery opening hours, reading : open everyday from 14h (2pm) to 19h (7pm) but.. put the prompt (arrow of the mouse) over the picture to see what ! hibis

2013. (*) Vapoter, a new and embarrassing social phenomenon. hibis
(*) in French, vapoter, is to steam by puff.
November 1999. At the Papeete market, the wide central staircase leading to the first floor was topped by the board mentioned here. It reads No climbing up or down with packages of fish.
A prohibition that can be understood because the floor is reserved for the sale of souvenirs and other products, including Monoï perfume.

More difficult to understand, it is also forbidden to go down with fish... fish trafficking or Polynesian mystery.

France basque country, a very typical restaurant

Closed for pigeons hunting period. "closed until all the palombes (pigeons) have passed away !! hibis

The envy of the day. (envie du jour)
Here in Bora Bora, in this little restaurant that's really very, very friendly and charming, we present "the envy of the day" certainly, the proposed fried entrecote is not as exotic as the boss, but it appeal envy, I assure you. hibis
A menu without menu ?
It is trendy, but not in local bistros. The price, 88 euros 2013, without the wine, is poetic :

According to our arrivals of small boats, according to, the idea, the moment, according to the seasonal products, let us guide you and trust me. .. The Chief.
the sexy Bigoudine and its mysterious opening hours. Explanations from the boss: the figures delivered with the brochure (we are in France), only go until 19h (7pm), so it is impossible to constitute 22h30 (10.30pm), which she has replaced with 10.30 (am) !
- 2017, The bigoudine is still there, but without Delphine and Mikaël, the founders, and without their atmospheric wall decorationshibis

Translation : above, come in, it's open, and right hand :see you tuesday ! An engaging formula, but some negligence means that it can also be closed. However, this open-mindedness has been emulated by many in the small town. hibis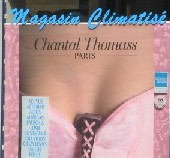 Air-conditioned store.
Very welcoming,
it makes you want to go and see... inside.
Are they offering a vision self-test to passers-by? or is their intention to... disturbing their eyesight.

This very large poster, a little out of place, was removed shortly after... hibis
Queue direction stage 1 . A rigorous shop keeper inside a market of the nearly Brittany. Not alone at all !

We appreciate strongly not to be served after people just arriving without queuing a quarter of hour like ourselves. hibis


Queue direction, stage 2.
Surprise! the crate has been moved this year, but we still want "the right order". hibis
This is the old name for a bar, café or brasserie in the north of the France ; the board read "there, one eat and drink". Sometimes you would like to be able to eat your cake or sandwich in a bar, by ordering only one drink; Would that be possible here?

&nbsp hibis

Do you need having an hair cut ? I think you'd better make an appointment early in the morning, because this board read "café of the hairdresser". late in the day, his skillness could well progressively weakening. hibis

Fontarrabia, Spain basque
The store is a beauty salon. There is a plate, on the right,"estetica" . The laundry drying in the main street may be that of the clients.

On this October day, he flew happily in the wind, aesthetically
hibis
| | | | |
| --- | --- | --- | --- |
| Marine salad, sea fruits, mussels, shrimps, etc.. and at the bas (in white) : "I am peeled off" (shell/carapace removed). Would it be an alone shrimp at the menu ? hibis | To sell or to buy ? the board read à acheter (to buy). But in in France, such a board generally read "A VENDRE" (for sale). There are some others in the vicinity. Would it be a diversion to vamp passer-bys ? hibis. | Tourist district. We sell a T-shirt that, with its prancing horse, would remind us of something... Let's take a closer look. FERRARI? no, "IN FURI". Pretty awesome. hibis | |


People and trade 2, shops, outdoor