Architecture byzantine (Greek cross) draws a plan with 4 equal branches whose center is a square. (Both Roman and Gothic churches are long and the cross of the transept is hardly marked). The Greek cross at prevailed a long time, spreading in Europe too.

Sainte Sophie (Holy Sophie) is more often mentioned than the blue mosque due to its Christian origin.
Ii was at the beginning, year 537, the private chapel of emperor Justinian under the Bysantin Roman empire, i.e. an orthodoxe Greek plan square contruction.
Its architecture marks a progress in connection between the walls "in square", imposed by the byzantin plan in "Greek cross", and the central cupola, necessarily round. Stones of angle, called "pendentive", transform the square into hexagon , which facilitates connection between the two forms (round onto square).

At the contrary of the blue mosque, largely open to all the faithful, four separate spaces had been conceived : eastern and southern corners for patriarchs, centre for the emperor and his procession, peripheral spaces for ordinary faithful people, then finally farthest galleries for the women.


Mosquée bleue, Istanbul.

Seven minarets instead of four ! (explanatons further..) hibis




Inside the blue mosque, piece of work of the Ottoman empire, which for me, gives primarily a feeling of pale pink, these two colors being associated. (seen at a time when tiles were getting refurbished).
One is seized by emotional feeling while penetrating in the blue mosque so much immense and impressive is the space which opens in front of oneself. Sobriety astonishes too. There is nothing in a mosque, excepted carpets and lighting.
Seven minarets. A mosque is surrounded by 4 slim towers.

Seven minarets instead of four. A Mosque is surrounded by four slim towers. <>strong>The blue mosque has seven. They would have ordered 4 gold towers, but a vocabulary confusion led to 6 stone towers. Anyway, it couldn't be six towers because only the sacred Ka'aba can have ! So a seventh one was built. (according to our guide) hibis

The sacred black stone (CLICK HERE !) is embedded at the West angle of the Ka'aba (Mecca), behind a cube of black hangings (left hand on the picture)
Handed on to Mahomet by angel Gabriel, it would have been originally white, then blackened by the sins of the humanity. photo Larousse encyclopaedia.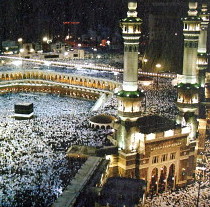 According to "The Legend of Ninmah", an inspired novel, the ultimate attempt to eliminate humans by the creative gods (deluge etc), consisted of a stream of incandescent lavas that swept down the flanks until an enormous block of obsidian turns into a beautiful black egg.