hibis, nothing
but reality
bottom


French
this page:
Feast decorations
&nbsp ideas and pleasure
| | | | | | | | |
| --- | --- | --- | --- | --- | --- | --- | --- |
| pommes de pin | | | Nana, the small alone worm | Tongs lauching Great contest (string shoes) | | | |
A magic oil lamp : Cut out a mandarin or clementine in two parts as the picture shows ; turn around with your knife between the top, where the stalk is, and the opposite end. May be you won't succeed the first time removing the fruit from the peal without damaging it. Try to curl the peal up gently.

After that, a small stem must be left at the base of the half part, opposite the stalk. If not, put inside a small piece of cotton rolled into your fingers.

Put now a small quantity of groundnut oil (olive oil is too thick) and lit it. If you have got the natural small stem, you need to be patient for starting the fire (several matches could be necessary).
| | |
| --- | --- |
| The crown | The crown we put it on the front door ; to fix it, avoid adhesives or nails which can damage the wood : bend a plastic card in the purpose to obtain two fitted hooks, one that can clutch on the top of the door, the other to pass a wire, and that's all. See also Do it yourself |
| | |
| --- | --- |
| | Envelopes Pasting some little pictures picked up from paper napkins is trendy and one sells a special glue-varnish for that ; but you need really not. My wife takes the decorative pictures on Christmas catalogues, and enlighten them with spangles (inks of decoration containing tiny spangles). Valid for festivals and anniversaries, envelops to be sent through the Post office or not (decorate around the address, with plants, animals, objects, jewellery, signs, harts..). |
glass bier cardboard (coaster) papered with cutted out patterns. Think also at feasts patterns.





Flat Christmas Tree lights and adornments for large sliding window or wall decoration.

A simple hook under the ceiling may be sufficient to hang one or more garland strings to be decorated with balls, objects, etc. a suspension rod allows to better position them
yesterday the little snowman or Santa Claus

The little snow man or Santa Claus : Two round shapes and a circular one must be made. You can use inflated balloons from all origins (my choice. I got them back through a hole), or use wire mesh you form like round shape ; one much bigger for the body (example 40 cm in diameter). For the lower part, make a cylinder with some wire mesh or cardboard or whatever rigid enough.
Buy at least 5 kilo of plaster (moulding or regular) or glue-plaster for plaster partitions (do it yourself store). Cut a lot of 6 to 8 centimetre stripes in material so that you can nearly cover the first "globe" from bas to top (an oval form is better but it get more time). Mix the plaster with a quantity of water that make it like a paste almost liquid (but not too much !). Go ! put the first band in it and stir it ; oh, I forgot, put the ball in a plastic bowl or something else to immobilise it. Now lay on the first band... and the second, recovering the first one by 1cm at the "waist" and more at both tops. When the round is finished, stop and admire your work, letting it dry until next day. Next day, try to put the others bands crosswise and/or different directions to reinforce the work. At least three or four layers for the body, the same for the head and the cylinder, cut out a hole in the top of the body for head to be bond with plaster too. You can add rough hands.. As for the head, bore two holes for the eyes and one for the nose ; mark or paint a "moon shape" mouth (prick paper before to search the right places). Put a carrot in the nose hole (wrapped in kitchen shrinkable film to preserve it). Add two or three buttons of plaster or whatever you find, a hat and so on

It can be transformed into a Santa Claus !! dress it in the way you want, with a broad red outfit, cotton for beard and brows.. but you will have to colour its face and put a big nose in plaster.
Mamie's merveilles
50 grams = 1.76 ounce


Mamie's merveilles recipe. For 4 people. Frying oil (groundnut) : 1/2 litre - flour : 400 grams. + 100/150 grams to form a firm ball - 2 eggs (white and yellow) - 65 grams caster sugar - 65 grams butter. - 1/2 glass milk - 4 centilitres water of orange tree flower - 2 centilitres of Rhum or Cointreau - a coffee spoon of salt. Cooking time of 3 to 4 mn. No added yeast.

In a salad bowl, break and beat eggs, add tepid milk and butter, the caster sugar, the water of orange tree flower, the salt and alcohol. Mix well; incorporate the flour (400 gr) and knead the paste ; form a ball "firm and dry" (not sticking) while powdering with flour. Let rest 2 or 3 hours.
Cut the ball of paste into two parts and stretch the first part with a rolling pin on a well floured plate (cornstarch if possible). Cut out the paste stretched in rectangles of approximately 10 * 6 cm (4 * 2,4 inch) and make two cuts in the middle, length direction, but without reaching the edges ; fold up partly, drawing a little aside the cuts to give this tortuous aspect.

Have the the oil heated in a pot ; when it is very hot, drop into the pieces of paste, turn over them so they are gilded everywhere ; withdraw them with a skimmer, pose them on an absorbing kitchen paper. powder with caster sugar. Good appetite !
Quince paste

1 kilo = 2.2 pounds

Quince paste ; it is one of the thirteen desserts of Provençal Christmas (Noël in french), which can be varied, but with some basic ones. Not very widespread nowadays, the quince paste is however very good although it seems slightly granulous. To test his taste, quince jams are sometimes in shops.

2 kilos of quinces, caster sugar, 2 vanilla sticks (for their seeds). Peel the quinces. Cut them into districts and remove the heart which will be placed with the pips in a tied gauze. Put the whole in a large pot, cover with water and heat until they are just boiling. Cook during 30 minutes. Then let drain during two hours. The juice can be kept aside, if desired, to make jelly. mash up the fruits into the vegetable mill (fine grid). In our example, there remain 1 kg of mashed quinces. then add 2/3 of the sugar weight i.e 670 gr.).

Put again quince mashed up on fire while adding seeds of the vanilla pods. Bring up to boiling at moderate fire and keep cooking while stirring up during approximately fifteen minutes (finally, the paste is going down the bas of the pot). At this stage, withdraw from the fire and pour it in containers, preferably in thick layer, 2 to 5 cm thickness. Cover with greaseproof paper and let dry until complete hardening, from a few days to several weeks. One can turn back upside the block to make dry the lower part. Cut the paste in squares or sticks and powder tmen with a little granulated sugar.
The bami

50 grams = 1.76 ounce

The bami. It is a Indonesian dish which one finds alternatives in other Asian countries since it is containing vermiculation says "Chinese", this very fine and transparency vermiculation. Added with chicken, vegetables, shrimps, sauce soyo... it is really delicious and the sole odor excite your appetite.

For 2 people; 200 grams Chinese vermiculation, 250 grams breast of chicken in small pieces; 150 grams peeled shrimps "bouquet" (big shrimps) ; 250 grams French bean ; a little curly kale (optional). An onion cut into slices ; 2 beautiful cloves of garlic chopped ; 5 to 6 spoonfuls (soup) of soyo.

- Make inflate vermiculation 1 hour to 1h30 into water. Empty the water, rinse.

- While it is inflating, have gilded small pieces of meat with oil (a few minutes to gild); then the onion, garlic, beans (together), also with oil.

Add the soyo and cook the whole (open air) while stirring up and while avoiding to cook to much vegetables (a bas round pot or a wok makes it possible to draw aside on the edges what should not cook too much). Add pepper (light) and salt possibly (gently, soyo is salted).
Skewers of vegetables

Skewers of vegetables. We adapted an American receipt of vegetable skewers, by simplifying it because it was necessary to make marinate 24 hours in a sauce. It is a complement very appreciated of our guests (and ourselves "ofcourse"), sympathetic and decorative ; it can be added to another vegetable, such as French beans, fried potatoes... match well with lamb, roasted poultry.. Composition : tomatos cherries or pieces of tomatos (to keep only the part of flesh closes), onions, cultivated mushrooms, pieces of green peppers. whitewash with aromatized olive oil and make them cook under the the grill.

Receipt of origin: for more consistency, add aubergines and zucchinis. One can make marinate in a vinaigrette the day before (oil, mustard, various condiments, balsamic vinegar). In this case, the skewers become an entry or the main vegetable dish.

- The skewers Out of wooden or bamboo tend to burst vegetables they are picked on (fragile mushrooms, tomatoes..) ; to facilitate the penetration of the skewer, cut the point of the skewer so that it becomes flat on two faces ; get it then spinning between the fingers while pushing it into the vegetable and it will act as a drill (you must see a round hole drilling).

Pine cone decorations.
They are pierced with a fine spin. Separate apples or intermediate elements by knots. Intermediate items: sandalwood balls for closets, or as here corn flakes for children's games. Paint to taste (acrylic paint or models), make it shine with a painting varnish, add some bright dots using these decorative tubes that add colored sequins (transparent tubes that are pressed). These tubes can also be used to embellish, letters, gift packages, and even buttons, switches!
These pine cones can be placed in a basket with knots and other decorative accessories.
(Clic ! agrandissement en vertical). Présenté ici sur un voilage fin doré.
hibis,
Mme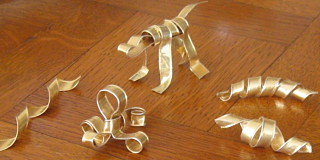 decorative elements.
In the pre-holiday season, the choice is wide. You can also create and customize small decorations that will be arranged on a table, a piece of furniture, or suspended. "P" These are gold paper bars, with wire-reinforced edges, that close loose coffee packets. They are twisted, assembled according to one's own imagination. This very particular example is mainly intended to open the field of creativity, new barettes being left at the disposal.
Pattern Cut,
It is a matter of cutting shapes in cardboard or bristol (scissors, cutter). Circumstances and taste are masters in this art: silhouettes of animals, characters, or objects, stars to sting or hang (walls, ceilings), snowflakes (I cut them into a fine polystyrene). Reuse whole cartons, which will become fake packets wrapped with paper and garnished with cutouts and ribbons. Will form a miniature house too. adding a roof and opening.
Cutting pre-selected motifs (see decorated envelopes).
The calendars of
The Post office
are usable.

Nana, the small lonely worm.. Nana is a small alone worm which needs love and food from his faithful little friends ; so he can grow, grow almost indefinitely.

Great Tongs launching contest (string shoes).
This entertainment is practised in New Caledonia at the time of.exhibitions. The contest consists in balancing the leg and positioning the foot so that the more effectiveness can be got to reaching the farthest point in front of oneself. Try this with some good friends of you. Insane laughter guaranteed.


Travel (car, journey, stay, beach, animals..)