the museum of Noumea
Huts, top hut spires, case entry frames, masks, sculptures, petroglyphes, both Kanak and Asmat civilisation etc..
Ancestor mast from Irian Jaya (West New Guinea, Asmat tribe). The Asmat, cannibal until 1960 were conquered by the Dutch and the Muslims of Indonesia, then were repressed and decimated, obliged to give up, as everywhere, their culture and rituals. Their rites were re-allowed thereafter. Some of this tribe now carved for tourists, but rather live miserably without the support and care, far from what allowed them before to produce food. Others still live in fairly large huts built at the tree tops. Ancestor mast : previously, each sculpted head represented an ancestor, and it was advised to care it, because their minds could take revenge by misfortune and disease.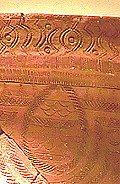 Poterie Lapita, whose name come from the spot of discovery (New Caledonie).