In Australia, certain zones of bathe are supervised by helicopter and nets are dawned in water. In Durban also, on the coast of Kwazulu-Native, on the Indian Ocean side, the nets are 200 meters of the shore for attacks which often take place at the end of the afternoon. There is now an average of three accidents per year, seldom mortals. On the other hand, the accidents increased in the Cape Provinces Eastern and Western (National geographic, June 2000).
It seems that the surfer run a higher risk because the sharks would believe their (animated) board is a beautiful fish or rather a tortoise, especially if, sitting onto, they lets hang their feet in the water. The summer 2004, in Australia, a surfist was devoured by sharks, seemingly without any warning (hereafter, another assumption quite as probable, because this unhappy was in their territory.
Here is the point, for the moment .. : a specialist told us on the TV that with their senses very acute they could not be fooled by this plastic bord !!. This man told also that the shark would attack only if we wander around within itsterritory.
Well, at a TV documentary (July 8, 2001, Canal+, France) with the shark photograph from the National Geographic, they showed us an attack of shark on a surf board !! and what's more, we could see the shark jumping in the air to drop on the board like a dolphin (we think generally that the shark goes always from the deep water.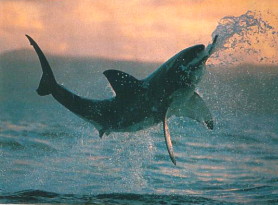 A couple of fans have watched this scene on open sea near South Africa, where the white shark is hunting sea lion in winter, due to the lack of fish in this period.

On right hand, sharks travel long distances to feed on with seabirds gathered at the time of birth.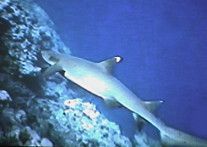 Small shark of the lagoon, 1m50 max, known for the color of their dorsal fin, white or black, represent hardly a risk ; well nourished, they go away when we follow them. One often sees some of them when diving. However, some balack fins have been reported as dangerous. TV photo.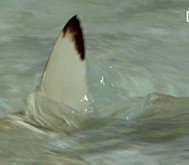 A friends of mine encountered one in a narrow passage; surprised and feared too, it drew an arrow randomly in the rock. The shark made a U-turn, either by the noise of the arrow, or because it found the intruder too large. We retained this last version, the man being large and corpulent.
I had myself a bad experience with two large sharks (3 m), lately identified a little too close whereas they were oxygenated in a pass, still. One do not see very far away under the water and I believed that they was two beautiful fishes !! It too me a long time to recover the fear.
A Shark attack could be made at 30 km/h.