"Their hierarchical society rules with taboos is fascinating, with its ritual, its human sacrifices, its fishing community where one beats the sea with stones to drive out the fish towards the bow nets, its wild tribales wars, its percussions, dances and banquets which last all a week long". Magazine Geo January 2003.

The Polynesian culture finds its unit in the habitat, the food practices, the dugouts with double hull and with beam, navigation, fishing, the flowers and shells assembled, the festivals and dances, the legends and the gods. The Polynesian culture developed itself according to a diagram now generally acknowledged; see " French Oceania..
CULTURE
Dancer of the "Tiki Village", Moorea.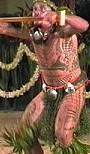 A long time prohibited by our religions, traditional tattooing is back in Polynesia, where it is linked with the initiatory life of the man. Some are satisfied tattooing shoulders and buttocks whereas others do not exclude any part of the body.

It is practised with a needle soaked (now) in Indian ink which penetrates under the skin ; it is very painful, especially when surfaces covered are important. One mechanizes with an arranged shaver, but traditionally, it was a point of bamboo struck with small blows which made penetrate ink, or rather a natural dye, under the skin.

Its renewal interest does not impose it and lots of Polynesians are not tattooed.
Tattooing represents elements of nature, ground, mountains, flora or animals marine (teeth of shark) cardinal points or geometrical figures... the usage of certain symbols is however delicate because it can be crowned or taboos (tortoise, shark). This is why one see more commonly geometrical drawings. Tattooing also distinguishes the clans between them or the social standing. It can mark the passing to the life of adult or any other stage of the life or simply meet a need for esthetics.

In the Marchionesses, one scraped tattooings on the body of dead to restore original nudity to them. The hurdy-gurdies women were in charge of this work which they carried out using shells broken to make them best cutting. (magazine GEO N° 287 January, 2003).