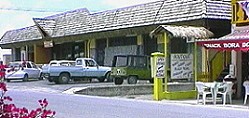 The small village of Vaitape is quite modest ; some stores of which curios for tourists, of course.



The square of Vaitape. There is a small market and good bananas on the stalls.
There are restaurants with Vaitapé (I hesitate for plural). Without making any publicity, you will find the little marvel (right-hand side photo) which should not exceed the three tables in terrace. Interior is a little larger with bar and room: very neat and owner female " colours high ". But it was in late 1999..
Another establishment, the Bounty, much larger (open only the evening I believe) is at the edge of the road, pointe Matira. But there are also the hotels, sometimes with Tahitian dances.
A small corner of poetry



: the dish of the day is called "the desire of the day". It is true that the weather here gives here "the colour of weather" (couleur du temps, in French).

On the TAAROA board, a former " Fleury Michon" race boat.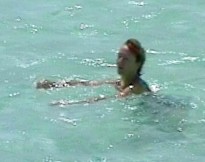 Right in the middle of the lagoon lay a sand bank on which we drop anchor to take a small bath. We go outside the lagoon by the single channel (pass) Teavanui and we will make a small burst of speed "in open sea"
One can see the mountain under all its faces. It is a crater of volcano ploughed up and invaded by the sea.
Two tops for the ex volcano of Bora Bora: Otemanu, 727m and Pahia 661.

Do not wait too much to go there, it is lowering ! see "Polynesia"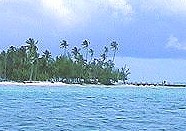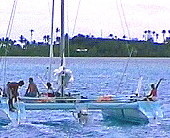 Goodbye Sylvie et Pascal, have wind..