The tribes use the breeze blocks and sheet for their dwellings; definitely less decorative, the modern materials brought speed of construction, solidity and duration. A " vegetable " hut does not last two decades and requires long and hard work.

Beautiful tribe site, agreeably planted as most often often. One can see a traditional roof.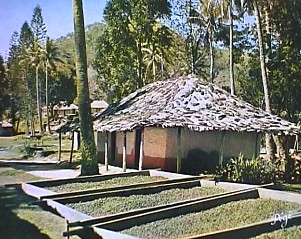 Drying the coffee. Coffee was sold at Nouméa, or more precisely exchanged ag trade office which bought it.


the sign read : Any people go down here, even from a bicycle for no one must be taller than the Chief. That makes us laugh, isn't it ; as a matter of fact, are you sure it's no longer the same in our "modern and advanced" society ?

I remember a Chief who spoke at "his subjects" turning them his back. Why ? For eliminate all that could spoil the message, from both sides, ie reaction of audience or the contrary. It's reality, we hear less looking at a screen and the sound is generally set louder than for the radio. We can tell at the phone what we won't never tell facing the interlocutor.