In the south of Noumea, the ground entirely consists of iron chromium, ore also containing nickel in small proportion.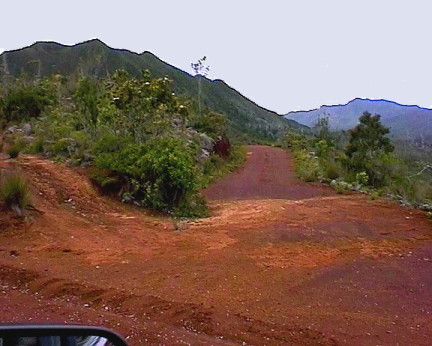 towards Yaté
Characteristic road of the south: here a view of the old not "tarred" road.

Granulometry is variable but the majority of the visible grains are from 1 to 6 mm.
Dangerous, it was not a great pleasure driving on the old way. hibis
This chromium of iron, that is recently extracted by a chemical process is composed of grains, heavy in the hand, which have three characteristics not to be forgotten :

- roll under the feet and the wheels of the car, caution in turns. - cut and can notch you deeply (my own experiment, slipping on a slope)
- stain a lot and sometimes in an almost indelible way (attention with your clothing, the dog, the car).
Cars hirers prohibit sedan vehicle the access to the not tarred roads of the south. : you must rent a 4 wheel drive.