Not forget the bread fruit tree, URU, in Polynesinan, because in the bread fruit, all is good.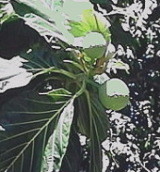 Well done, It's good, all depends on the sauce; a little farinaceous.


Oranges with juice, are really good despite a bad presentation apt to upset Europe makers.

Bananas Happy are those who did not know these blackish things, and its "wild" taste !! or those of a garden that were growing so fast...

Green, striped, detached. see "prices" . As everywhere now, they are banal bananas. nothing to do with wild ones.

We know less about bananas to cook strong>, big and reddish, but excellent once cooked ; not for the dessert. .