'>
| | |
| --- | --- |
| hibis, the reality, nothing else. | hibis Curiosity. |

French
this page:
portals, wrought iron, grids, ..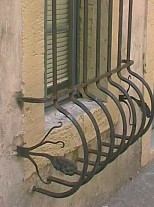 One does not pass the arm, even by the side of the rounded part. .

Provence. hibis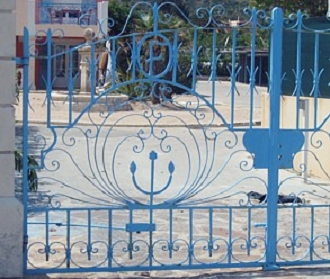 France
Modern Art very inspired : artistic shop grid : in the small town of the chuch lighthouse.
hibis

It is not a door, but a window grid, of which we see the white half-curtain. (Click!) Provence. hibis



Master piece wrought iron for this very dissuasive grids of a castle, like horns of stag, with triple or quadruple multiple points.
Not really artistic !! but solid and sturdy. Door of a small Basque House, made of iron plates ; a souvenir of the 39-45 war. Allowed to drive on muddy or rough soil. Are still used. hibis
Spain


Andalucian patio (from a postal card), I was enable to shot it) Mexico.

Mexico
Arabesques. Puebla, Mexicoe. hibis
Norway
hibis
Allemagne
Monumental gate, but without a fence ! Must be sufficient here !
(north Germany) hibis
I must quote this incredible work of the Sainte Anne gate at Notre Dame de Paris, not to mention the Stanislas square, in Nancy. There are many more to be discoverd..